WINTER IS COMING...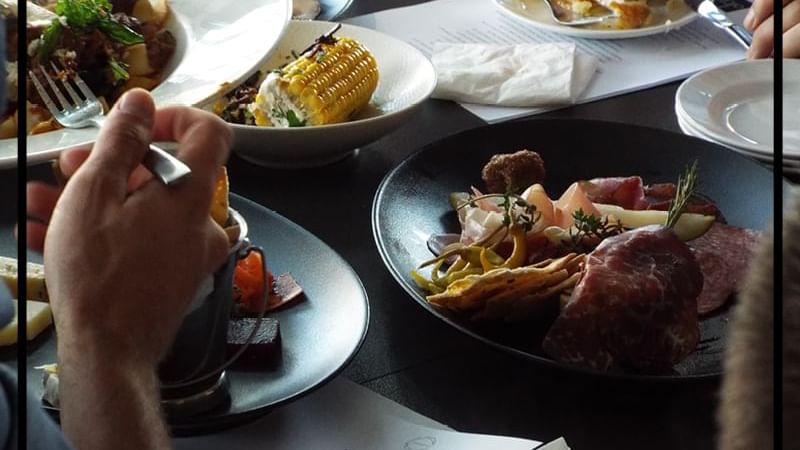 By Gareth Woolcock - Sous Chef at Pullman Mercure Brisbane King George Square.
Winter is coming indeed, and for me as a chef, that means slow braises, root vegetables, rich foods and lets face it indulgence!! Personally I don't think there is any better way to spend the colder months than with good friends indoors, eating, drinking and relaxing.
Food is not only something we eat for sustenance but also something that creates conversation and brings people together. Share dishes have taken off in a big way in the restaurant scene – it can create a more relaxed dining experience for the guests which is fantastic to witness.
At Bistro Allure, we offer a selection of share dishes on the menu. My absolute favourite is our slow braised shoulder of lamb. The whole process of preparing the lamb takes around 36 hours. First of all it is marinated with all of the usual suspects – rosemary, mint, garlic, onion and olive oil.The process of marinating takes a minimum of 24 hours to really let those beautiful flavours penetrate the meat. We then cryovac the shoulders individually in airtight bags and cook them in a commercial steamer at 85 degrees centigrade for 12 hours.
The result is the most tender lamb you have ever tasted, it literally melts in your mouth. It is then served with a big pot of our house made jus and a side of your choosing. It is simplicity personified but the perfect example of something humble being transformed into something amazing by treating it with love and patience. Two people, a lamb shoulder and a good bottle of red = the perfect night.
We would love to have you as our guest so please come in and try this, along with many of the other amazing dishes on offer at Bistro Allure. SEE THE MENU
About the author: Gareth Woolcock is our Sous Chef at the Pullman Brisbane and has been with us for 6 years. Gareth started in hospitality in Perth working at one of the busiest cafes around where he learned about having a good work ethic and how to manage his time efficiently. After 2 years there, he spent 6 years in Melbourne working in Chapel St cafes and in restaurants in the Melbourne CBD. Needing a holiday, he took off travelling for 3 years taking in 35 countries including Cambodia, USA, Serbia, Morocco and Egypt. Today, he brings this life experience into the kitchen and likes to share his knowledge with the team and is a well respected mentor to those around him.