TOP 5 THINGS TO DO THIS SUMMER IN BRISBANE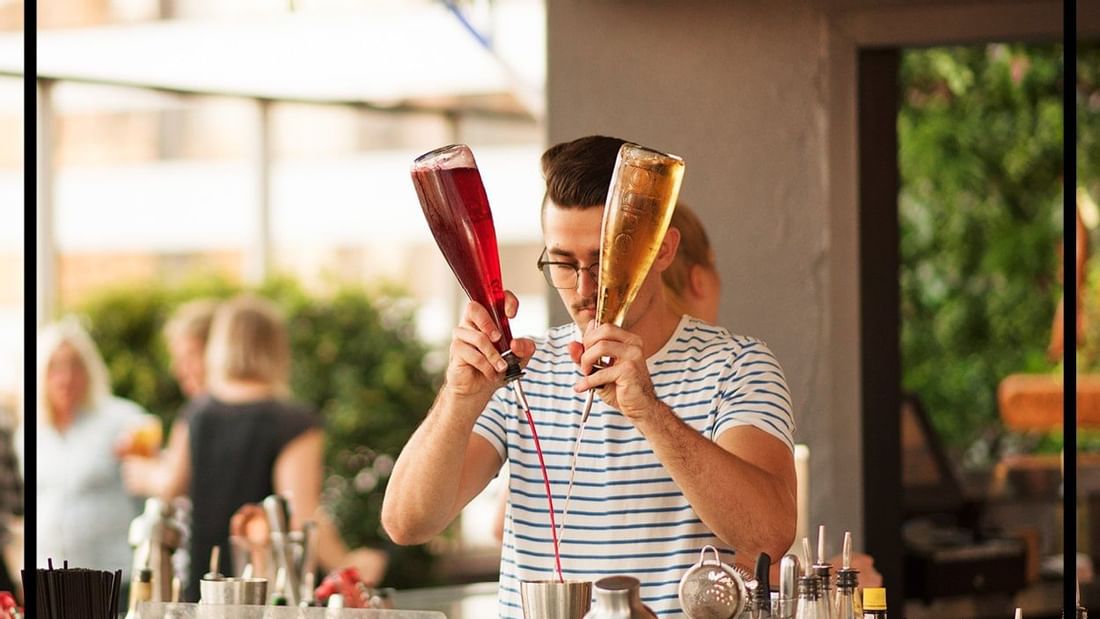 How do you make the most out of Summer in Brisbane?
The answer is simple, get outside and live! There are so many things to do in Brisbane, and so many of those things are on our doorstep. Whether you're a family, with your mates, or enjoying the freedom of your retirement, there's something for everybody this season. Here's the top 5 things to plan for this Summer.
1) Anyone for Tennis?
Each year the Brisbane International gets better and better. If it's wasn't the strength of a Williams sister that got you out of your seat, it may have been the grace of Federer that blew you away. If you haven't attended it yet, now's your chance. This year is Nadal's turn to grace us with his presence. Alongside a truly international standard of tennis players, he takes to the Pat Rafter Arena in the begining of January. A great venue just minutes away on the train from Roma St station, a short 5 minute walk from the hotel.
When: January 1-8
Where: Queensland Tennis Centre - Tennyson
Cost: from ~$40 to ~$200 depending on type, day, and time.
More info: http://www.brisbaneinternational.com.au/
2) All I want for Christmas....
Nobody can deny that Queen St Mall is now brimming with some of the best shops Brisbane has seen with a host of new international brands opening this year. Start at the top of the mall and maybe grab a bite to eat from the food stalls and markets that are often there, then head down past Forever 21, into and around the Myer Centre, and then stroll down to Uniqlo and into the fancier Queens Plaza. If you can't do it all at once, take it in turns while you relax at the hotel in the air conditioning of KG Bar or your room. The shops aren't going anywhere, and you're only steps away here. Here's a handy list of the retailing hours this year to get you started.
http://bit.ly/BrisbaneTradingHours
3) Get some culture into your life!
Our fabulous Gallery of Modern Art or GOMA as we call her, is 10 years old! It seems like only yesterday that it was opened, but none the less, they are celebrating with a stack of choices when it comes to exhibitions. The best part is, they're all FREE too. From cinema, to photographs, to children's art it's all there. Plan your visit HERE and it's an easy walk via Kurilpa Bridge, a pedestrian only bridge that takes you right to the entrance.
4) The French are coming...
Brisbane announced recently that we would be hosting the Global Rugby Tens competition in early February 2017. Some of the worlds best players will feature in the event in teams such as the Blue Bulls of South Africa, the Panasonic Wild Knights from Japan, and the French team Toulon. Hosted at Suncorp Stadium, the Ten's will be a bigger, better, and faster game of rugby than you've ever seen and something that shouldn't be missed. We've got our hopes up of course for our very own Queensland Reds who will be there hoping to snatch victory in front of a home crowd.
When: February 11 and 12, 2017
Where: Suncorp Stadium
Cost: from $49
More info: http://www.brisbaneglobaltens.com/
5) Stop for a drink on a rooftop!
If you're just after some time to catch up with old friends and family, there's plenty of places to relax and have a drink and some food on one of Brisbane's many rooftop bars that are open for business. The obvious place to start is of course, Sixteen Antlers!!! Why? Because it's ontop of our hotel, that's why. 16 stories up ontop of the Mercure hotel is this brand new bar with the best views over King George Square and City Hall you can get. Craft beers, cocktails, and fine wines, it's open from Tuesday to Saturday and they'd love for you to stop by. Also, just above Queen St Mall is the popular Lennon's Pool Terrace and Bar where some great vantage points exist for you to people watch as they go about their Christmas shopping. Oh, and there's some pretty good food and drinks available too. If you want to venture further away from the hotel though, there's some pretty impressive views from Sazerac, which is ontop of the Four Points by Sheraton hotel in Mary St. Looking out over Riverside and down to the Botanical gardens, its comfortable furniture awaits you and yours for an enjoyable catch up 30 floors up.
Any way you choose to spend your summer, Brisbane can help you out. These are just some of the great events happening here and we're excited to welcome the sunshine, to, well, the sunshine state.