HOW TO START A TRAVEL BLOG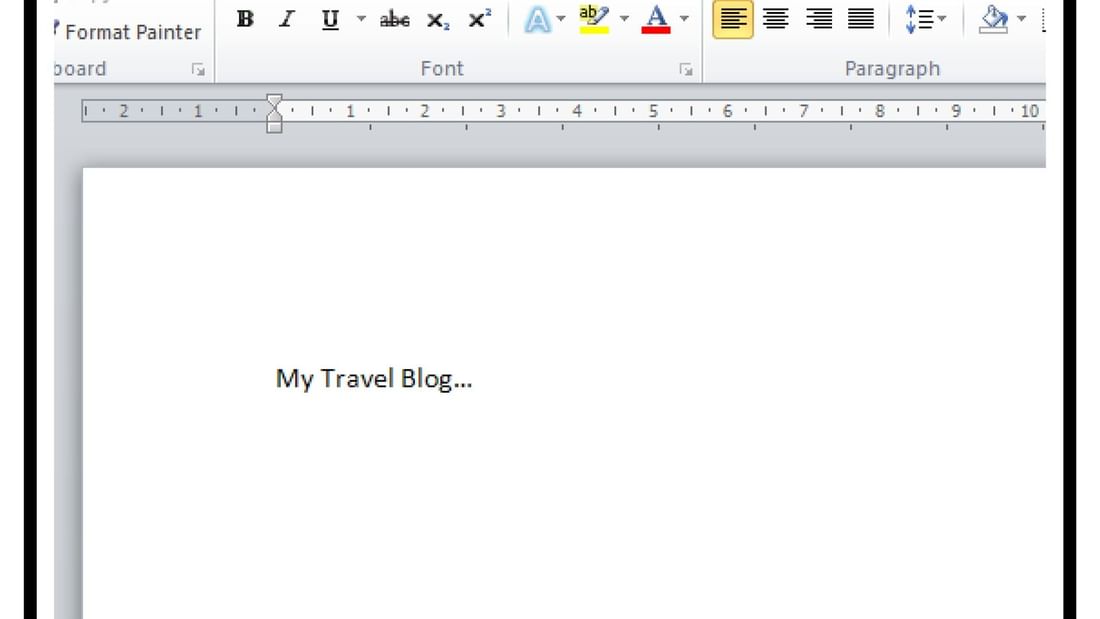 Have you wondered how you might start a blog and start chronicling your adventures and travels? We asked a Travel Blogger exactly that... Enjoy the read.
Starting a travel blog isn't as hard as it sounds! In fact, it's a fun, easy hobby you can do for free. I've been doing it for a decade, and I love it as much as the day I started. Are you thinking of starting a travel blog? Then you're in the right place! Read on to find out how to begin your travel blogging journey.
Step 1: Plan.
Before you start writing away, decide what exactly you want to do. Begin by thinking of your focus. Is your blog going to be about the expat life? Maybe you want to write advice based on your experience traveling through Europe. You could even do something based on travel to your own home town. Once you have decided your focus, come up with a name. This can be simple or catchy, but it should reflect you and your adventures.
Step 2: Pick a Platform
There are plenty of platforms out there that can host your blog. Some of the most popular are Wordpress, Google Blogger, Squarespace, and Tublr. Wix, and Weebly. I have used Wordpress, Blogger, and Squarespace. The one I like the best is Wordpress, partially because of its user-friendly interface and party because of the chic, classy style of its templates. My blog, 3rdCultureWife.com, is a Wordpress website. I also run a Squarespace website, which I find is better for more stable content than frequently-updated blogs. Blogger is free, and it is good if you don't want to mess with too many details, but it's not as updated and cutting-edge as some of the others. Most (but not all) blogging platforms are free until you outgrow the space limit, and then you have to pay to use more gigs of space. Personal domain names also cost money. I blogged about every other day, and took me a year to outgrow the free version of Wordpress.
Step 3: Set Up Your Blog
Setting up your blog is easy, but it's also very time-consuming. Plan to set up your site on a day when you have a lot of time to play with fonts, templates, and colors. Be creative! You'll have a lot of trial and error as you go, but with a little time you'll get familiar with all the controls and options on your dashboard. When you go live, write a meaningful blog post to introduce your blog to the world and encourage people to keep reading as you keep writing.
Step 4: Have Some Adventures, and Blog About Them!
You now have a travel blog, so go out there and start doing blog-worthy things! Even if you only go on holiday once a year, you can create enough content for a post a week all year. Instead of cramming a whole trip into one post, dwell on the little things. If you go to Sydney, for example, you can break up a weekend trip into several posts: one about the bridge, one about your top three coffee shop discoveries, one about the wildlife in the harbor… you get the idea. Take lots of pictures to go with your blog posts!
Step 5: Stick With it and Don't Be Scared
I have friends who are fabulous writers but are terrified to put their writing out into the internet. Don't be scared to share your writing with the world! If you want to improve your writing, you can take a free blogging or writing class from Wordpress to help you build your skills.
Once you start, don't let your blog languish in the dusty, forgotten corners of the internet. Commit to writing at least once a week or once a month—whatever you can fit in your schedule. The best way to keep motivated is to have fun. Don't make it all about the likes, comments, and followers. Blog for you, and you'll never get tired of sharing your travel adventures. Happy writing!