6 TRAVEL APPS TO HELP YOU ORGANISE YOUR NEXT HOLIDAY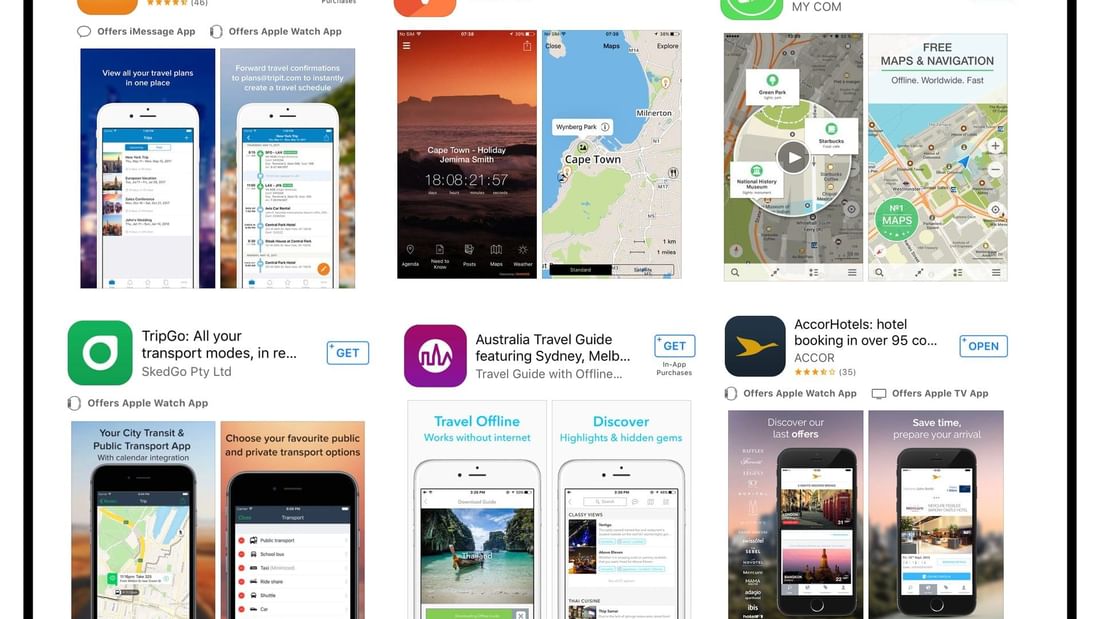 In this modern era of smartphones and tablets, why keep travelling old school? You can make your travelling plans using state of the art apps instead. Let's explore some astonishingly amazing and useful travel apps that will totally change your experiences travelling.
Tripit puts all of your travel plans in one place by putting together a master itinerary and you can access this on your smart phone or tablet absolutely free. Tripit syncs travel plans with your calendar and enables you to edit each entry manually and share travel plans with your friends and family automatically. Once you mention your preferences you can get customised notifications like fare refunds, alternate flights, and availability of other options. You can also save money using some of the VIP travel benefits. All in all, this app covers a number of bases to help you stay organised.
This is another useful travel and event app that helps you to access documents and information on your devices without using your mobile data. Whenever you need maps, schedules, and other important information it is your trusted option as it's all saved in the one spot. If you're traveling with friends, it also builds excitement for your trip and organises everyone in your community. This is a definite 'go to' when you're 'going to...'
Maps Me
This travel app renders several beneficial features. It is available for all popular devices and works totally offline. No internet connection is required allowing you to save money on roaming fees. It compresses the entire world inside your pocket and ensures your map works smoothly without freezing - which if you've ever encountered this problem, you'll know how good this feature is. It provides a high level of detail and helps you to discover a lot of interesting things in the places that you'll be visiting. You might like to try it out in your home city first to see what it can offer even a local - you might be surprised with what you find.
TripGo is an award winning travel app that plans trips with any combination of transport modes in real-time. You can perform comparisons and combine different local transport modes like buses, trains, ferries, trams, metros, and subways. You can even share your transport plans with other people. Apart from planning your ride, you can check fares and times, bus and train ticket options, transit directions, timetables and also get live service alerts. You can also connect your calendar to get automatic trips & leave alerts providing up-to-the minute information on predicted departure/arrival times. It supports almost 200 locations around the world so is worth a look the next time you're in an unfamiliar city.
Australia Travel Guide
This free app offers complete and up to date city guides for all of Australia's capital cities and many other travel destinations in Australia. Each travel guide has a sightseeing section featuring all of our major monuments, an eating out section with the best restaurants for each city, and a nightlife section that includes bars and pubs. The provided maps are some of the more detailed we've seen as well and of course this Travel Guide works offline with no roaming charges. No charges = no problems
Of course the list wouldn't be complete withour an investigation into our app. With around 20 brands, 4100 hotels in 95 countries, you can now book your destination almost everywhere using the AccorHotels app. It also includes 70 handy City Guides so you can find the best travel ideas and save you precious time once you are in a new city. You can also check-in to your hotel online the day before you arrive so each day you can hit the ground running. It also keeps your travel information and views your bookings history and favourite hotels. Additionally, you can access your loyalty reward points and AccorHotels Le Club membership card details which helps to eliminate at least a couple of cards from your trip wallet and as we all know, less is always more when you're travelling.
By combining the features of all different travel apps you can create the most wonderful travel experience so why not give some of them a go?!