BEATING THE HEAT IN BRISBANE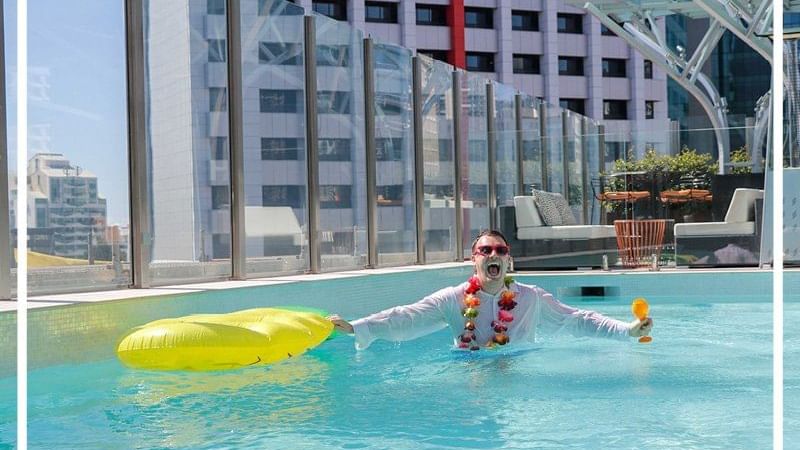 The summer heat is in full swing and the humidity in the air has become a norm for many of us in Brisbane. Scorching weather conditions can really affect those happy summer moods, but that shouldn't stop you from having fun. Yes you read that right; there are plenty of ways to beat the heat around Brisbane during the summer season.
It's time to pick yourself up off that cozy couch, turn that air-condition off and make your way outdoors. We've got you covered with some fabulous ideas on how to keep it cool in Brisbane during this time of year.
Celebrate the summer season by taking a dip into the soothing waters of South Bank beach
Renowned for all the right reasons, the beaches at South Bank are a sheer form of relief for those burning hot days of Brisbane. Whether you take a dip into their soothing waters or simply indulge in the diverse variants of recreational and entertainment activities that include the performing arts center, cinemas, restaurants and more - the choice is yours.
Indulge in an oasis and designer gardens at Roma Street Parkland
Roma Street Parkland's horticultural standards exhibit superior excellence and that's the major reason why many Brisbane visitors simply can't get enough. Take part in a yummy barbeque, family picnic or simply enjoy an evening walk through the majestic designer gardens and eye catching sprawling lawns. Don't forget to check out the rocky peninsulas and glorious meadows too.
Head towards the Cultural Precinct in Brisbane for a cool and enjoyable afternoon
Considered to be a great method to beat those glistening heated days, a visit to the famous cultural precinct in Brisbane can turn into the most delightfully soothing experiences. From ancient civilization to modern works of art at the museum, there's tons of hidden treasure waiting to be explored.
Head towards the local pool areas in Brisbane to break the heat wave
Who doesn't love a splash in the pool on a scorching hot day when there's no shade in sight? There is no greater relief from a heat wave than a nice, cold swimming pool. Tag along with a few friends to your local pool and enjoy a fabulous day. Don't forget those tropical juices to keep hydrated.
Stroll through Brisbane's glorious shopping malls for some relaxing retail therapy
Retail therapy is a fabulous way to take a break from Brisbane's soaring temperatures. Whether you simply wish to have a window shop around Chermside, or shop for items you need at Carindale or even cool down with your favorite flavored ice cream at the myers Center in the city, there's always an air-conditioned shopping center waiting for you.
Witness a natural and fulfilling swimming experience at Brisbane's family friendly recreational dams
If you happen to like a little more adventure than those routine visits to your local pool, head on towards Brisbane's exciting range of lakes and dams. Wivenhoe Dam in Northwest Brisbane has plenty of recreational activities that can range from canoeing and kayaking to swimming too. The Maroon Dam is a one hour drive from Brisbane but its fishing and water skiing facilities serve as a hotspot for all during the summer season.
Cool off in a quintessential Australian manner by swimming at Gardners Falls, Maleny- one of Brisbane's pristine waterholes
While Brisbane offers its citizens plenty of waterholes to dive into, the Gardners Falls located in the Sunshine Coast take top spot for the right reasons. You'll find pristine waterholes that are surrounded by glorious rocky edges, made for sunbathing as you hear the soothing waterfalls sounds in the background. There are rope swings and smaller rock pools too for those seeking a little more adventure on a hot day. It really is the perfect way to cool down with friends.